Autonomous Mobile Robots
Autonomous Mobile Robots, also known as AMRs, are redefining how handling and transporting loads are approached in industrial environments. Leveraging autonomy and artificial intelligence, these systems operate independently, optimizing operational efficiency and reducing the need for human intervention.
The AMR lineup offered by AND&OR stands out for its seamless integration into existing production plants. Through path programming and virtual nodes, these robots demonstrate exceptional adaptability to the specificities of each installation. Whether it's pallet handling, box manipulation, or other tasks, AND&OR's AMRs provide a precise and efficient solution to streamline logistics operations and the supply chain.
Recognizing the uniqueness of each project, AND&OR provides meticulous technical customization to meet the specific needs of each customer. From aspects like the drive platform and navigation to battery and power system, each component is finely tuned to achieve optimal performance. Furthermore, safety is a fundamental pillar in the design of our AMRs; all equipment is designed, manufactured, and installed in strict compliance with safety regulations applicable in various markets, ensuring a protected and risk-free working environment.
Autonomous Mobile Robots represent a revolution in the industry, and AND&OR is at the forefront of this transformation. Their personalized approach, innovative design, and strict adherence to safety regulations make their AMRs a smart choice for boosting efficiency and safety in industrial environments.
INDUSTRY
INDUSTRY
AND&OR autonomous vehicles are designed to meet the demanding requirements of the beverage, food packaging and blow molding industries.
SCALABILITY
SCALABILITY
It is the ideal solution for flexible automation in production plants which require intensive work and complex production flows, as well as constant lay-out and production modifications.
FLEXIBILITY
FLEXIBILITY
Several models are available according to needs. Additionally, each of the equipment has many customization options, to adjust to the application requirements.
SAFETY
SAFETY
AND&OR keeps providing the highest safety standards in its autonomous equipment, in order to operate safely together with operators.
P Series
Autonomous mobile robot (AMR)
P series vehicles are platform AGVs designed for auto loading. These systems are compacts and highly maneuverable, making them ideal to work in reduced spaces.
Depending on needs, for the loads handling, they can be equipped by roller or chain conveyors, rising table, etc.
The driving base is available with different settings: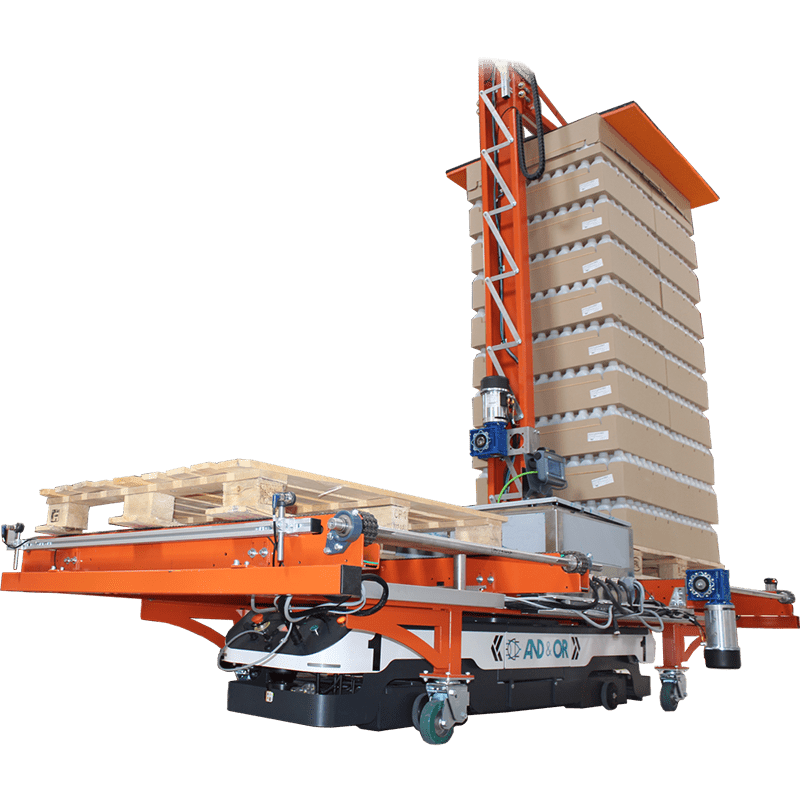 Max. speed
Navigation system
Batterie
Lithium
Online / Induction

Movement
Differential
Omnidirectional

Autonomous mobile robot (AMR)
F series vehicles are designed for palletized load handling by forks. This pallet handling system allows itself to have a great versatility when picking and delivering pallets in different positions.
Depending on needs, they can be stacker or counterbalance.
The driving base is available with different settings: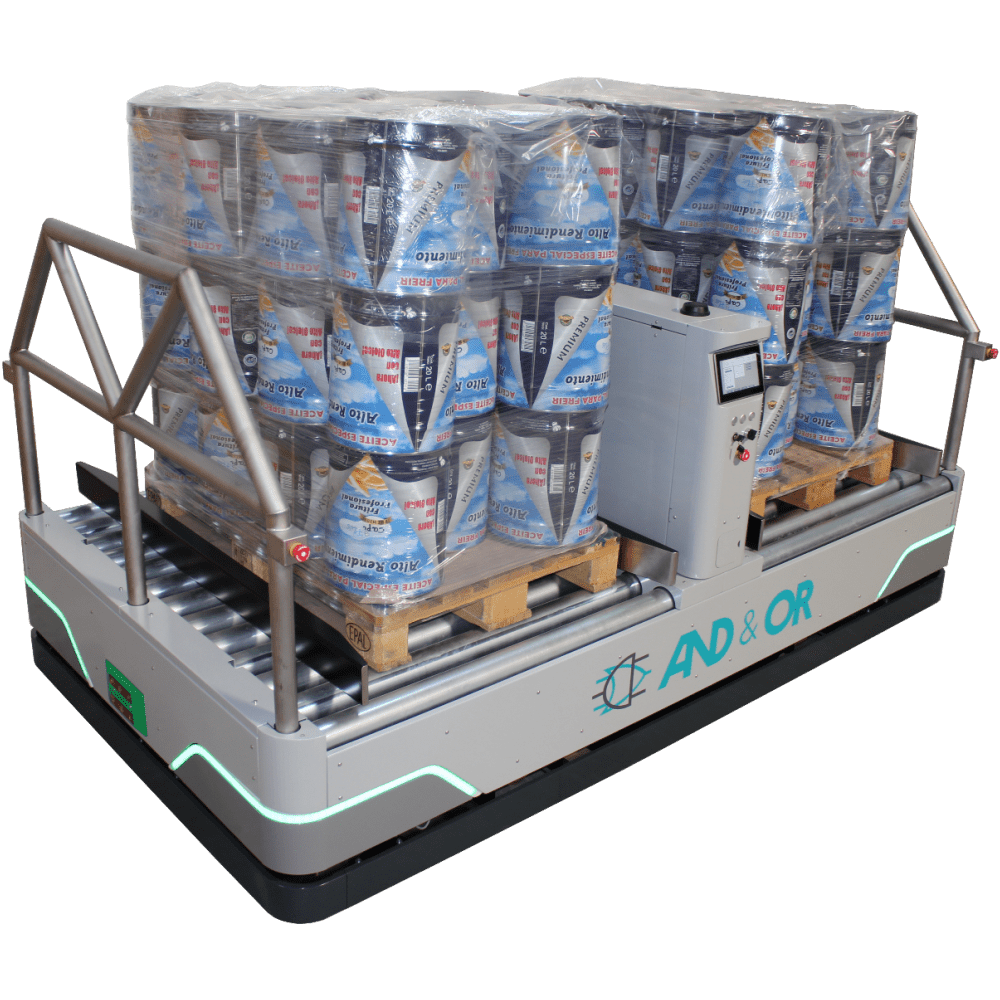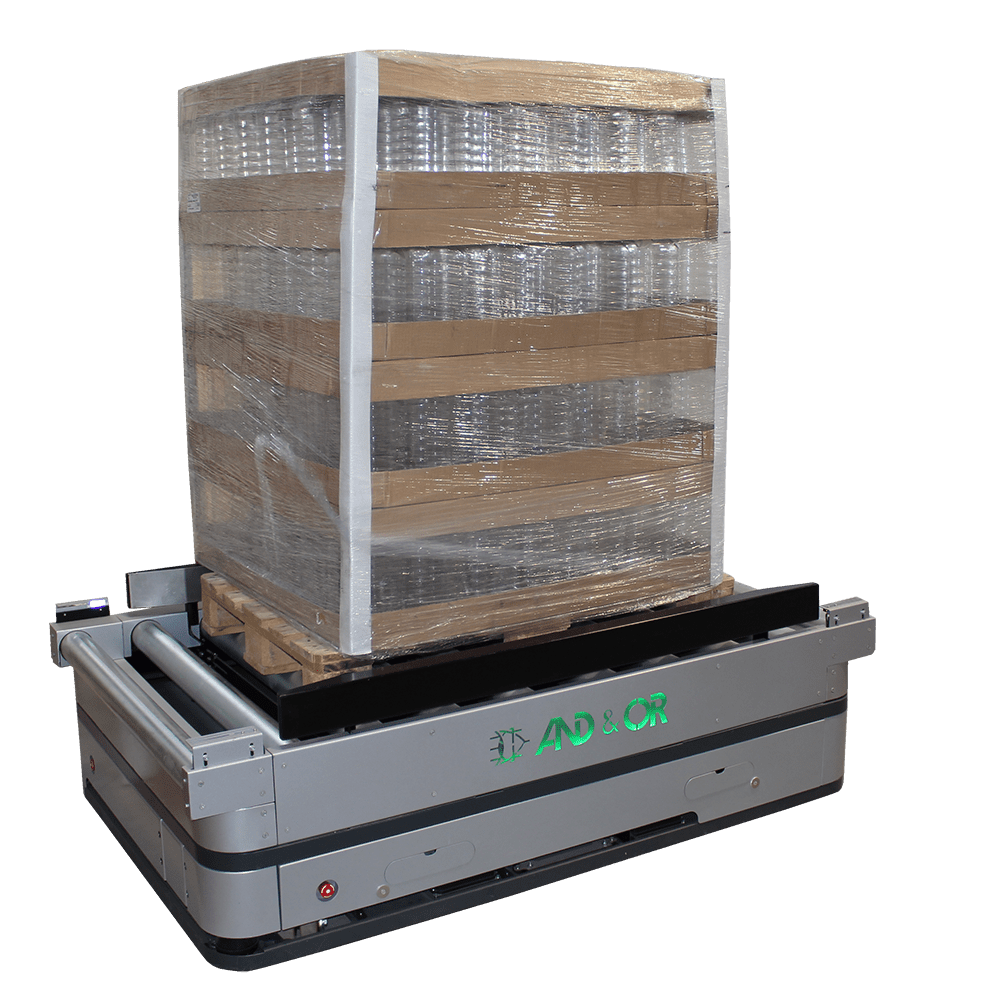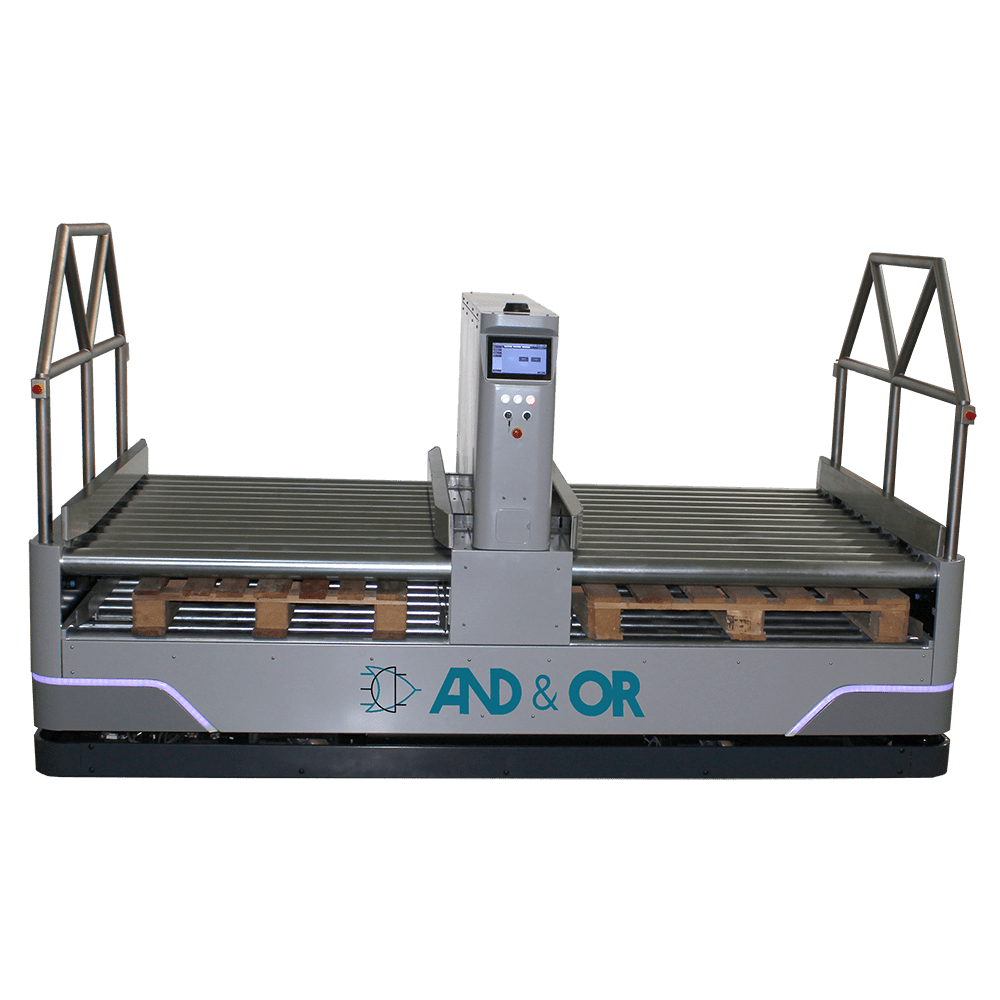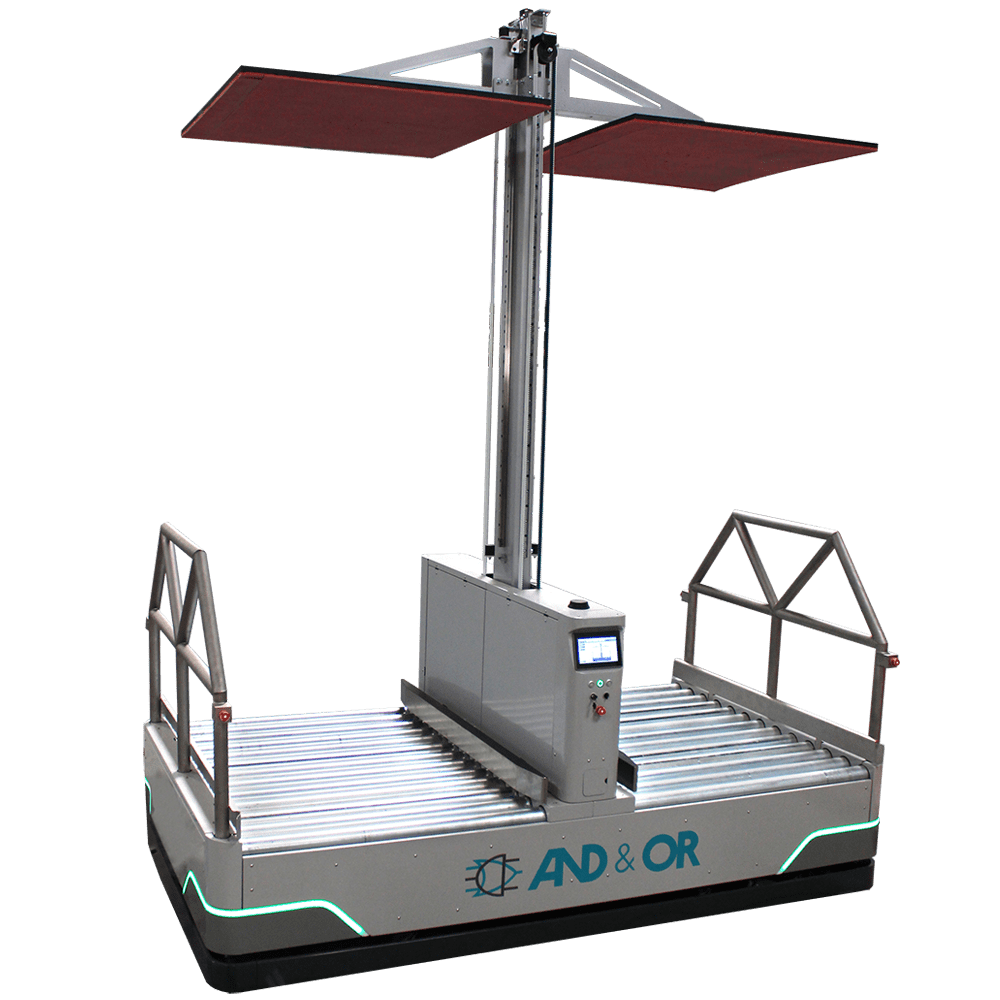 Max. speed
Navigation system
Batteries
Lead-acid battery/ Lithium
Online / Induction
Movement
Autonomous Mobile Robot (AMR)
R series vehicles are designed for warehouse management. This pallet handling system has a compact size that allows it to work among shelves and reach heights of up to 8.5 meters, a payload capacity of 2.5 tons. A hybrid solution, it can also be operated manually if required.
Equipped with numerous sensors and actuators, it allows handling loads with complete safety.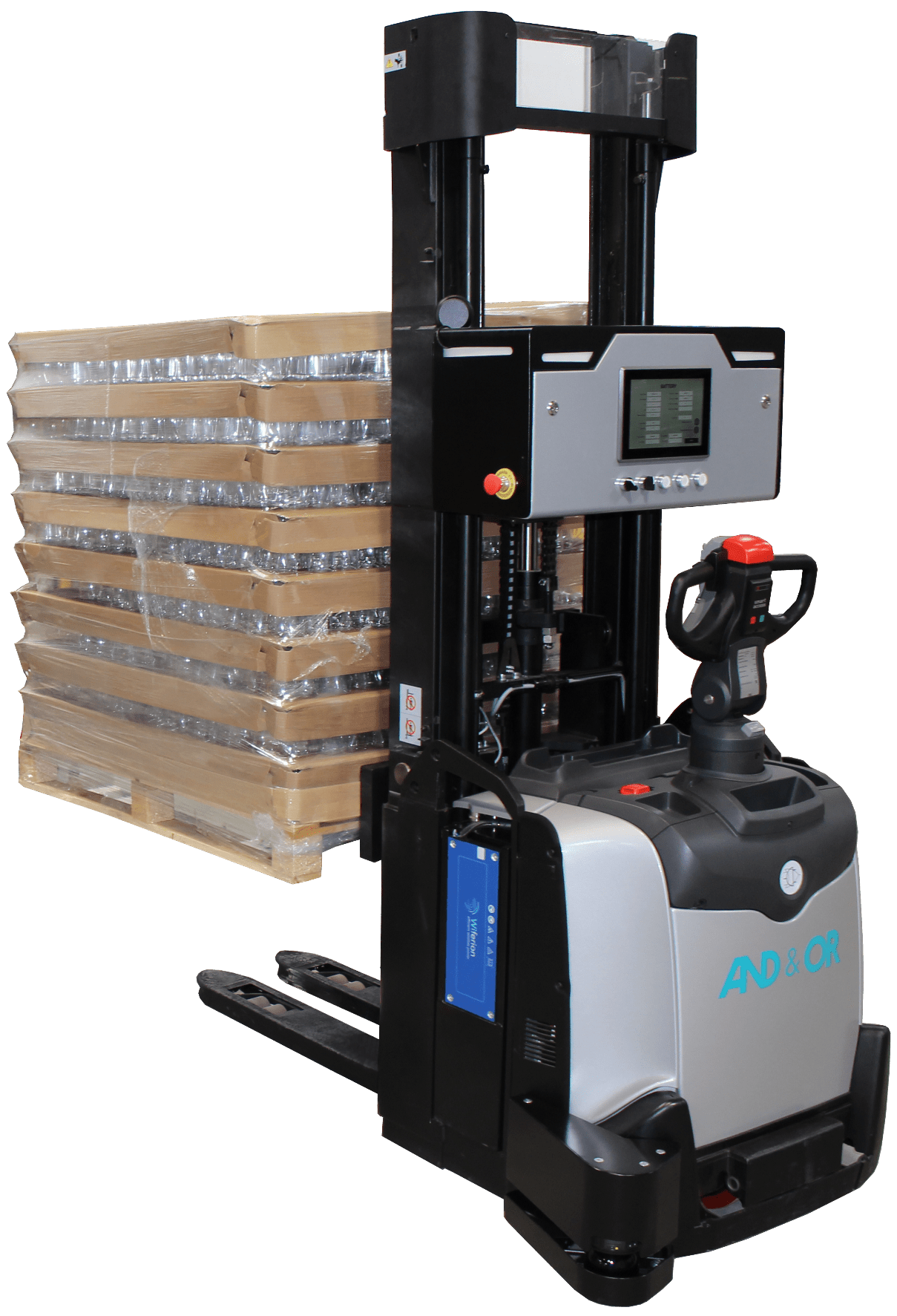 Max. speed
Navigation system
Batteries
Lead-acid battery/ Lithium
Online / Induction
Movement
Fully automatic system

Safe system to work with people

Easy adaptable to existing line
More than 36 years of experience

Customized projects adapted to your needs

Installations, partners, agents and references worldwide

After sales service guarantee
Downloadable content
The content is restricted, in order to have access it is necessary to register