Automatic octabin formation island
For the preforms transport and handling, the use of the octabin format in cardboard is becoming more frequent due to its benefits and advantages compared to metal, wood, or plastic boxes packaging (it supposes a lower unit cost, great recyclability, logistical advantages, lower environmental impact, among others).
The manufacturing process, assembling these octabins or other containers, is a traditionally manual process and not always simple, which consequently increases the operating cost of the final product for manufacturers who transport their goods in this container type.
AND&OR offers to the preform industry the complete automation of octabin formation, its transport to injectors and following pick-up of these once they are completed with product, as well as its labeling and wrapping to the warehouse input.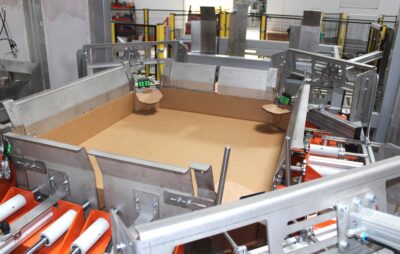 The automation of this process not only implies a saving in direct labor costs, but also an increase in the quality and traceability of the product during its manufacturing process.
Octabins forming islands are custom designed, according to floor space and specific requirements of each client.
They are usually made up of the following elements:
Empty pallet dispenser. (It is complemented with other type containers dispensers if required, metal or plastic box).
Base or cover formation area. It is a cardboard forming machine, it can work with hot glue equipment or by of a cardboard fitting system.
Body formation area. This operation is studied according to the octabin type, it is generally handled with an anthropomorphic robot.
Bag insertion area. Automatic machine to insert a bag inside the body. It is fed with preformed bag rolls. It can work simultaneously with different bag sizes.
Junction/sealing between base and body by automatic wrapping machine.
Delivery area for formed octabin to injectors: this conveying operation can be done either with AGV or manually with an electric stacker or similar.
Pick-up area for complete octavin/with product inside: this conveying operation can be done either with AGV or manually with electric stacker or similar.
Automatic cover applicator.
Junction/sealing between body and cover by automatic wrapping machine.
Octabin labeling machine and delivery to warehouse.