How mobile robotics increase the productivity of your production plant?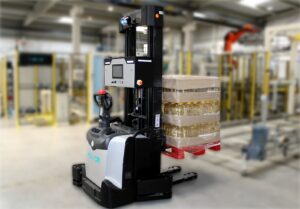 Improve the efficiency in your intralogistics' operations and reduce your operation costs opting for Automatic Guided Vehicle (AGV) and Autonomous Mobile Robot (AMR).
These Autonomous Smart Vehicles are able to move indoors and outdoors, optimizing the loads movement of the production process.
Thanks to their design and operational flexibility, can be easily integrated into existing production plants, with no need to change layout with machine movements or civil works implementation.
What is the difference? Automatic VS Autonomous
When we talk about AGV (Automatic Guided Vehicle), we are referring to vehicles following a predefined path.
In the case of AMR (Autonomous Mobile Robot), we refer to intelligent vehicles, able to optimally adjust their route according to the conditions of the working environment.
Mobile robotics application in the packaging industry
AND&OR autonomous vehicles are designed to meet the demanding requirements of the beverage, food packaging and blow molding industries.
It is the ideal solution for flexible automation in production plants which require intensive work and complex production flows, as well as constant lay-out and production modifications.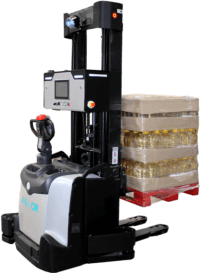 Example: transport of filled bottles pallet, vegetable oil sector, bottling and filling lines.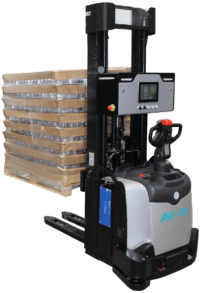 Example: transport of empty bottles pallet, blow molding sector, bottles manufacturing lines.
AND&OR has a wide range of vehicles with natural or magnetic navigation, and with a maximum load capacity up to 2,000 kg, providing the highest safety, in order to operate safely together with operators.
AND&OR will analyze the needs of each plant to design the best automation solution thanks to its extensive know-how, defining the models that best adapt to the requirements of each production process to achieve the most efficient solution.
To get an assessment, do not hesitate to contact us.
Mobile robotics enhance the competitive advantage of your business.