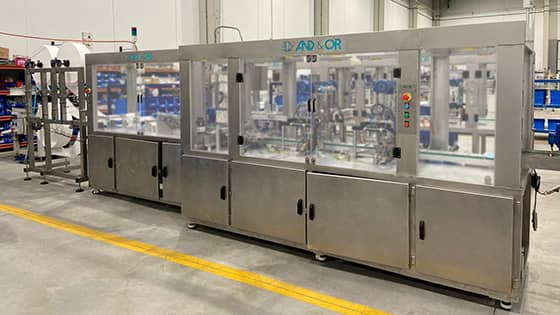 And & Or, with 100% Spanish capital, has been contacted by Chinese companies for the acquisition of this machinery, which is more reliable and has a higher production capacity than those used until now.
And & Or company is dedicated to the automation of industrial processes since 1986, has a staff of only 150 employees and, nevertheless, has its own subsidiaries in the USA, Belgium and China that cover a long list of clients in more than 50 countries in America, Europe, the Middle East, Africa and Asia. Innovation and the constant search for automatic and robotic solutions to optimize manufacturing processes have made it an international benchmark, with exports representing 85% of its turnover.
And & Or's technical team has been working on the project since the beginning of February 2020, when several of its Chinese customers requested a more reliable and efficient solution at high production speeds (which they hardly found in the local market). The spread of the pandemic and the shortage of product accelerated the design and manufacturing process of the first machine.
The developed equipment is capable of manufacturing surgical-type masks, with up to 4 layers of protection and with ultrasound welding systems for the assembly of the mask. The production capacity is 120 units per minute, which allows reaching figures of over 1 million per week. In addition, the design stands out for being a modular and expandable solution according to the required production speed and the desired degree of automation, which complies with European regulations on safety at work (CE) and with European standards of quality and durability.
Its general director, Antonio Ortega, points out "we have worked intensively to reduce machine costs to bring a competitive product to market, making the investment amortizable very quickly, so that the risk of falling demand in the medium term does not affect the decision of our clients."
The first machine to produce masks will be delivered at the end of June, and our production capacity for this model is on the order of 4-5 a month.
From the company itself it has been highlighted that solutions such as those they have developed demonstrate that Spain is capable of creating an internal industrial fabric, "the only way to ensure the supply of our hospitals and citizens without depending to such a great extent on a monopoly of Asian manufacturers".
Within the strategy to redirect production into the health industry, it is planned likewise a production line for FFP2 and FFP3 masks, and also to offer the material to manufacture the masks.