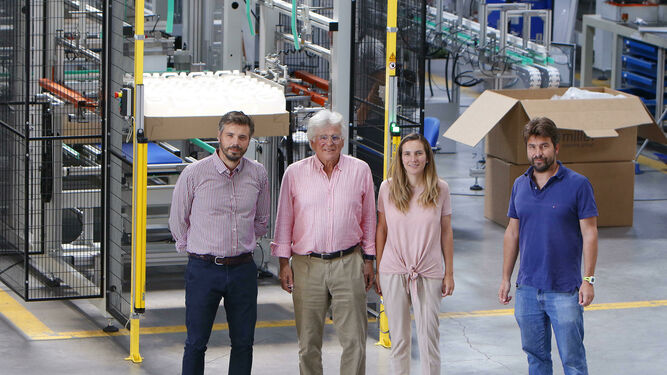 CaixaBank and Joly Group recognize excellence in four andalusian companies leaders in their sector: R. Queraltó Group, Jimeca, Sipadan and And&Or
Next Tuesday, at the Carriage Museum of Seville, the X Awards for Excellence in Andalusian SMEs will be delivered, an event organized by Caixabank and Joly Group, which has already become a benchmark for the business world. In this tenth edition, the jury has decided to award four companies, the best in their opinion, regardless of the categories in which they have been presented. These are the winners:
AND&OR
The Sevillian company And & Or has achieved success through specialization. For the general public, it is a somewhat peculiar company, since it is dedicated to everything that has to do with the world of the bottle, but not its manufacture. Covering from bagging to palletizing, through the handles insertion (a patent has been created for the machines that make it) and quality control. It was born in 1986 by the impulse of Antonio Ortega and at the beginning it manufactured robotic equipment. Little by little, it began to move towards what it is today and, starting in 2005, with the arrival of Antonio Ortega Jr. (now CEO), it began an expansion process that has catapulted it internationally: its sales abroad have gone from 20% to 90%.
The growth has been such that in 2011 it inaugurated new facilities in the business park El Limón in Palomares del Río and only three years later it undertook an expansion. Last year, in the neighbor , it opened another plant of "high-speed rotary machines", with a more advanced technology and an R&D center. It already plans to build an office and training center, to support the growth of staff in administrative, commercial and management positions.
Abroad, it sells in 60 countries and has focused on three: the United States, where it opened an office in 2016; Brussels, where he has another since last year; and China, where it will open one at the end of this year or the beginning of 2020. The idea is, as confirmed by the general director, Antonio Ortega, that "in the future, a factory will be built there, to supply the Chinese market, the biggest of the world. That country still has a lot of potential, for ten years, at least."
Source: Diario de Sevilla
Antonio Ortega Ruiz, AND&OR chairman , receiving the X Award for Excellence in Andalusian SMEs.